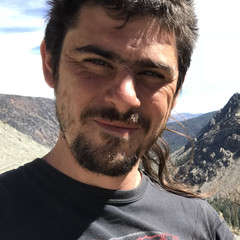 Aaron Austin
Concept Artist
Northern California , United States
Summary
My curiosity about the world is what drives my creativity and fuels my search for design solutions. I love creating worlds that are compelling and believable, and often find myself hungrily exploring all the information and reference I can find on a subject.
I'm passionate about storytelling, and have a deep appreciation for the many layers that make a story successful. As a designer, I try to consider all the richness of detail and subtlety that can reinforce the immersive quality of a world.
In an industry that is constantly evolving, with a bar that's always raising, I'm always hungry for new techniques, tools, and knowledge that improve my value as an artist and designer. My tools of choice these days are Blender and Photoshop.
Skills
Concept Design
Environment Design
Character Design
Prop Design
Storyboarding
Illustration
Software proficiency
Experience
Concept Artist at Carbonated Inc

United States of America

Concept Art, Promotional Art, and Cinematics

Concept Artist at KitBash 3d

United States of America

February 2020 - January 2021

Creation of concept designs for World Kits, based on vision and reference provided by Art Director. Responsible for generating highly communicative, production ready designs for entire Worlds.

2d Artist/ Animator at Winistry

San Francisco, United States of America

February 2016 - July 2018

Handling of all art production and Unity implementation thereof, for a small mobile app developer. Creation of UI and graphic design elements under supervision of art director, and close cooperation with engineer to implement resulting art assets in game engine.

Animator and Illustrator at Freelance

San Francisco, United States of America

December 2016 - February 2017

Creation of illustration and animation on a variety of contract projects, including storyboards for a pilot episode of an animated television show, illustrations for a mobile card game, motion graphics for advertising, and various others.

2d Artist at Koolbit

San Francisco, United States of America

April 2013 - December 2016

Responsible for all art aspects of video slots game design, from ideation through rough concepts to completed, polished assets and animations.

Illustrator at CJ Grace

San Francisco, United States of America

April 2013 - February 2017

Created humorous illustrations to accompany text content of two books, based on written descriptions and feedback from the author.

2d Artist at Present Creative

San Francisco, United States of America

December 2013 - April 2014

Created and animated isometric environment elements for Simpsons Tapped Out mobile game.

Motion Graphics Designer at Wunderwerks Design

San Francisco, United States of America

December 2012 - April 2013

Using provided storyboards, graphic assets, and voice-over, created several polished

motion graphics videos for product promotion.